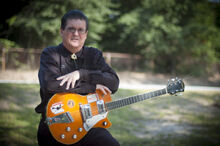 Bill Scoggins was born in 1959 in the old University Hospital in Augusta
Ga.
I was raised in Martinez and grew up listening to Hank Williams , The Beatles and James Brown. Me and my friend Joe Patch used to play these wild ass redneck parties out in the country around Evans and Martinez. We used to load our amps in Joey's Oldsmobile and drive out on these dirt roads to the middle of nowhere. We'd set up and play until almost 4 or 5 in the morning and then we'd try to remember how the hell to get home! We would get drunk and fucked up with our redneck friends. They didn't care if we played the same songs over and over. We quit playing that house party circuit when Joey got his finger cut off at the saw mill where he worked.
After college, I lived in England for a brief period. I tried to start a folk band with this Pakistani boy named Jasmine. It was a folk/raga/punk thing and we played one gig at this Indian restaurant in West London.We pissed the patrons off and got thrown out. After that we tried busking for while but it wasn't paying the bills and I had to come home.