The Fungos were formed in 1984
Danny Blahoe vocals,
Bill Scoggins, guitar, vocals
John Brownlee bass, vocals
Richard Daniels,drums.
We played our first gig at the Carriage House on the Gordon Highway.There were about ten of our friends in the audience the rest were regulars and Korean prostitutes. We only had about seven songs ready that night! We kept regular gigs between private parties, the Beat Club in Columbia, SC, The Uptown in Athens, The Operating Room and the Blahoe-a-Go-go in Augusta! Somehow we even managed a show at the Whipping Post but that was not advertised! We played a New Year's Eve show in the Delaigle House to ring in 1985 that is still talked about is some circles.We recorded a demo tape in the Basement of the Sacred Heart Church when the winos and pigeons ruled the roost there. Butch Guisto was the caretaker who lived there and he also is a whiz behind the soundboard. We booked time in his basement studio and cut six songs as I remember.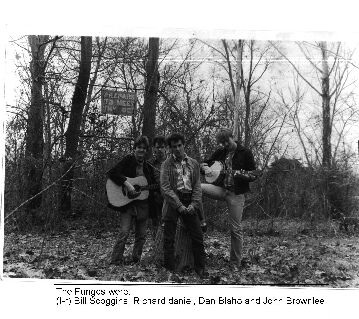 Community content is available under
CC-BY-SA
unless otherwise noted.