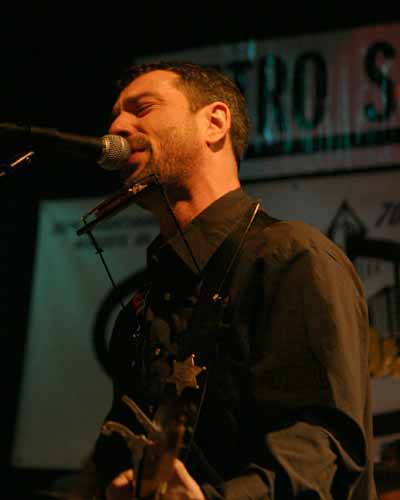 When Mindy and I recorded our first cd, Honeymoon, three years ago, I never dreamed that it would be as successful as it has been. This is our new one,Hearts & Bars. We hope y'all like it! (We'll add a fancy review or something later!) Thanks! Ken. April 12, 2005...
Okay, here's a link to a nice review we received in the Metro Spirit (our free weekly). Andy Stokes wrote it, and we thank him and the Spirit!
http://www.metrospirit.com/pages/music6.html
Here's another nice review!
While NBU is by definition biased towards New Brunswick (NJ) bands, every once and awhile a great disc finds its way here from left field (or rural Georgia as it were) which merits or even compels consideration. Such is the case with the Livingroom Legends, a husband-and-wife duo from down south a-ways, who've just released their sophomore CD Hearts & Bars. A few things have apparently changed for the LLs since their 2003 debut Honeymoon (the package art suggests a recent family addition, for one) but thankfully, the downhomey authenticity of Honeymoon remains very much intact on this latest twelve song set. Guitarist/vocalist/songwriter/husband Ken Stephens convincingly evokes the quintessence of red-state America through the lens of an uncanny knack for a great hook, bypassing the caustic aftertaste of political typecasting in favor of strummy, sun-kissed ditties about the simple, honest values that permeate lives where the days go long and the folks talk slow. Highlights include the peppy opener "Southern State of Mind" (though the ill-advised, sluggish alternate take really just emphasizes how much better the fast one is) and "My Life Right" - a countryfied snapshot of an honest man beset by earthly temptations. Done by poseurs from our neck of the woods, this stuff would seem forced or even calculated, but Ken and Mindy, God bless 'em, make these songs work in a big way. Shine on kids! (Mike Doktorski, 8/05)
Community content is available under
CC-BY-SA
unless otherwise noted.