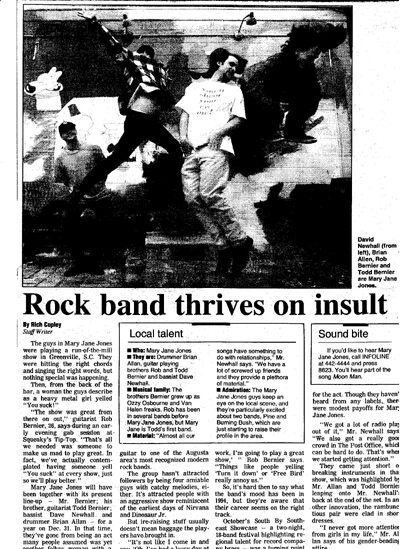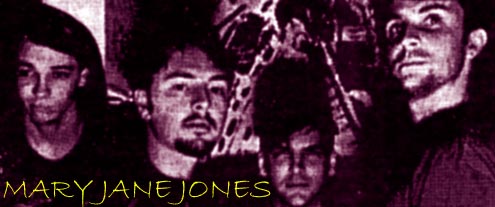 Band Members:
Rob Bernier
-Guitar,
Todd Bernier
-Guitar,
David Newhall
-Bass, and
Brian Allen
-Drums
Born of the dissolution of Augusta,Georgia bands BLAH! and Smile, Mary Jane Jones formed in the mid 90's as an exercise of the collective musical indulgences of its members. The influences of the band were rangey but were unanimously indie rock. As a result, the music of MARY JANE JONES was consistently extremely loud and very psychedelic(owing more than a bit to the fact that Allen and Newhall had previously spent several years plying trade in heavy psychedelia in DEBT OF NATURE and SMILE). The band became very popular locally and at least partially due to that fact, developed a very symbiotic relationship with local Alternative radio station CHANNEL Z. As a result, MJJ's single(remember 45's?) MOON MAN received regular spins locally and on CHANNEL Z's sister stations in Springfield,Missouri and New York City. On two occasions, the band travelled to Missouri to play CHANNEL Z sponsored shows including a label showcase that put the band in front of multiple A&R reps. However, the group disbanded before being able to take advantage of any label interest.
Community content is available under
CC-BY-SA
unless otherwise noted.