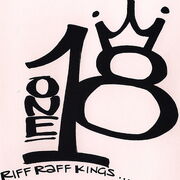 Click here to listen and/or buy "118"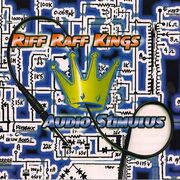 Click here to listen and/or buy "Audio Stimulus"
Click here for pics from RRK's 12/22/01 show at Soul Bar courtesy of Wes Childers
Thursday, April 07, 2005 Metrospirit
What a difference a few years makes Andy Stokes
It feels like even longer than the nearly three years since the Riff Raff Kings played their last show in Augusta. That you don't constantly hear disgruntled fans of the group murmuring about "the golden days" — when the five-piece caffeinated combo played extremely animated shows to a consistently packed Red Lion Pub or Soul Bar crowd — only adds to the length of the span since the band amicably called it quits in 2002, but that doesn't mean a single person has forgotten; it's more a case of "we don't speak of that band anymore." To anyone who caught the Riff Raff Kings at their sustained peak, those memories are slightly sacred, glazed over by the group's boldness and packed away by the tragedy of its breaking up long before its time. Those who never managed to catch one of the band's high energy shows are almost guaranteed to be skeptical of their live magnitude, which makes perfect sense — it was a bit much to take in when you were actually there. Just the sight of these five guys — obviously longstanding buddies — generating their own energy source and feeding from it wasn't only contagious; it was downright infectious. Unlike most shows, there was never a crossed-arm cement pillar among the crowd, fighting off the urge to actively respond to the rhythm. You'd already made the choice to loosen up if you simply showed up at a Riff Raff Kings concert. Beyond that, it was pretty much out of your hands. This effect on a crowd was one that came early and often in the short life of the Riff Raff Kings. The roots of the band can be traced to Foul Mouth Mitchy, the band to which future Riff Raff Kings J.J. Bower and Jeremy Carr supplied drums and guitar, respectively. "Matt (Morrison, vocalist) used to appear with Foul Mouth on a few songs, and people loved it," said Carr. "As a fun 'side project,' we played open mic night at the Red Lion." That open mic night was the group's earliest public performance, and the response was positive enough to warrant attention beyond a casual side project. Within weeks, Riff Raff Kings overtook Foul Mouth Mitchy in importance. "We got 118 (the Riff Raff Kings' practice space at 118 James Brown Blvd.) while Foul Mouth was still a band and Riff Raff Kings was like this fantasy side project that was gonna have a horn section and a bunch of people switching instruments," said Bower. "So we had a list of about 13 people we were gonna ask, but then we found Mike (Lamond, bassist), we got that practice space and lived down there." The Riff Raff Kings' first matinee gig was back at the Red Lion in August of 1998, offered by then-manager/owner Brian Brittingham after the unexpected success of the open mic date. In addition to the lineup of Carr, Bower, Lamond and Morrison, a second vocalist, John Carter, was added. It was the contrast between his piercing high range and Morrison's throaty roar over the snug, funky rhythmic lines that the band came to be known by. And according to Carr, that first show provided the inspiration to focus all future efforts solely on the Riff Raff Kings. "The turnout was incredible, the audience feedback was insane," said Carr. "I think it shocked us all how much people were enjoying themselves. Basically, we decided to pursue it hardcore after that first show." This point would be a suitable place to mention that the Riff Raff Kings existed at a transitional period, in the global scale, of music. All Internet access was strictly dial-up, and home recording was equally primordial, unless a gritty four-track tape was your desired means of output. And bands were slaves to their proximal surroundings. The Riff Raff Kings earliest days were a testament to this temporal curse, as most of their shows were based around the Augusta area; at the time, this was the Soul Bar and the Red Lion. Still, the shows were received well enough to have become galvanized into the stuff of legend, and Carr's father happened to own a home studio where the band soon recorded six tracks that would become their calling card. "118," a record appropriately named after the band's practice space, would surprisingly sell over 1,000 copies in its first few years. The success of both the record and the shows came with little effort or promotion, (which sends one's thoughts wondering as to what would've happened if Myspace.com or Purevolume.com had been existent in the Riff Raff Kings' heyday) and the band effortlessly landed coveted opening slots for Parliament-Funkadelic, Bush and 2 Skinnee J's when those bands came through Augusta in the next few years. It's tough to say whether the group members simply grew out the band when responsibility came calling or if a lack of desire to blatantly self-promote eventually caught up with them. It's likely a combination of both with a heavy dose of the former, as Morrison left just before the recording of the group's second record, "Audio Stimulus," in early 2001. Shortly after, Carr took a brief summer stint to do missionary work in Romania. With the second record in limbo (it was released just as the live shows dwindled down to almost nonexistence in early 2002) and little left to motivate the band, the end became imminent. "We funded everything ourselves, we had no management and no record company," said Bower. "It was up to us, and it got harder and harder to do." "If they would've struck while the iron was hot, they could've branched out and taken it out of the Southeast," said Josh Boardman, who produced "Audio Stimulus." "They definitely nailed that sound; how did a band like P.O.D. make it and not Riff Raff Kings?" But it's not an instance of completely squandered potential. Nearly all of the members of the original Riff Raff Kings have gone on to pursue other musical endeavors and taken with them lessons from the four-year period in the group. "I took many things," said Carr. "(I learned) to count my blessings and take nothing for granted. The time goes by so fast. All of my music pursuits prior and post Riff Raff Kings have required so much more work for what seems to be less amounts of reward." Only the positive elements of the Riff Raff Kings — and they were abundant — will be reflected on at the band's reunion show this Thursday at the Soul Bar. "It will be like a family reunion," said Carr. "Although the band no longer plays together, our friendship will endure the rest of our lives. It's very much like a marriage!"
Members:
Jeremy Carr
John Carter
Matt Morrison
J.J. Bower
Michael Lamond
Josh Boardman
Issue #22.22 :: 12/22/2010 - 12/28/2010
A Riff Raff Reunion

Local legends the Riff Raff Kings come back to Augusta for a reunion show at Sky City and, according to members, it probably won't be the last time
BY ZACH NESMITH
AUGUSTA, GA - It's been about eight years since the Riff Raff Kings played their last show together as a working band, and their fans in Augusta have been missing them ever since.
Some people might remember about five years ago they had their first reunion show at the Soul Bar. Now, while they're all home for the holidays, they thought it would be a blast to get together for another reunion show at Sky City.
The band first got started back in 1998 after playing an open mic night.
"Matt [Morrison] came up with the name," says Jeremy Carr, one of the vocalists of the band. "We just hung out in his mom's garage just making silly tunes. We met Mike [Lamond] and got him as the bass player. He just clicked more than anything.
"Even beyond the music we hit it off as friends right away. The five of us played at open mic night in 1998 and we made up three silly songs and it was just so fun. The owner asked if we wanted to play a show and we just said, 'Sure.'"
The band became a local legend, consistently packing the former Red Lion Pub or Soul Bar.
But by 2002, some of the band members decided to head to bigger towns. Lamond moved to Atlanta to play with Bane Madux. Drummer J.J. Bower went on to play in the Los Angeles-based band Battle Tapes. Carr became pastor of The Well community church in downtown Augusta and Morrison got married and now lives in North Augusta.
Carr says the band has been looking forward to a reunion show for a few years now.
"Coordinating everybody to get together is the hard part," says Carr, "We wanted to do this for a long time. It's especially easy now for the holidays with everyone coming into town. We're some of the best friends each other have ever had.
"More than just reuniting we're looking forward to hanging out. We're just a group of friend cutting up with our instruments."
Doing a show over the holidays will also allow for a lot of the fans to see people who will be coming back into town, Carr said.
The band's age would suggest that their fan base might consist of the crowds who frequented the music scene back in the late 1990s. But their legend seems to grow each year as they leave fans in anticipation for another show.
Over the years, the band has had its fair share of influences, from Beastie Boys to 311.
"Those are the big ones cause we had a hip-hop lyrics going with guitar riffs," says Carr. "Two Skinnee J's is one as well but they aren't as big as the Beastie Boys. We all have so many different influences. I was kind of a metalhead when we first started and some of the guys were into hip-hop. It kind of shows in the music."
Future plans for the band aren't yet set it stone, but the members have all expressed readiness for another show in 2011.
They've even talked about doing some new recordings of songs they never quite finished back in the day, Carr says.
"It's kinda hard to keep something consistently in play," says Carr. "We might put another one on the map. Maybe even in 2011. I seriously doubt this will be the last show we play." Riff Raff Kings Sky City
Monday, December 27
Doors, 8 p.m.; music, 10 p.m.
$5
skycityaugusta.com
HEADLINES
Edit
Riff Raff Kings Tear Roof off Sky City
Edit BY STONEY ⋅DECEMBER 28, 2010 ⋅ PRINT THIS POST ⋅POST A COMMENT

Original article from Lokal Loudness

http://lokalloudness.org/2010/12/riff-raff-kings-tear-roof-off-sky-city/

The past few years have been huge as far as old school Augusta bands reuniting. Debt of Nature, dieAgnostic, Science Friction, People Who Must, just to name a few, have returned to grace Augusta stages. While each of these have returned in fantastic fashion, perhaps the biggest return ever happened this past Monday night at Sky City.

Still feeling the Christmas buzz, Augusta music fans came out in full force to rock out with the Riff Raff Kings one more time. Nevermind that it was the Monday after Christmas, this was big news…and the Kings definitely didn't disappoint.

With an energy and tightness that had most of the Sky City crowd in awe, the Kings rocked the stage like they'd never left it in the first place tearing through old faves like "Bring the Reign", "That Girl", "Me Gusta Mexicana", "Back in the Day", and more. If even for one night for many it was…"Back in the Day."