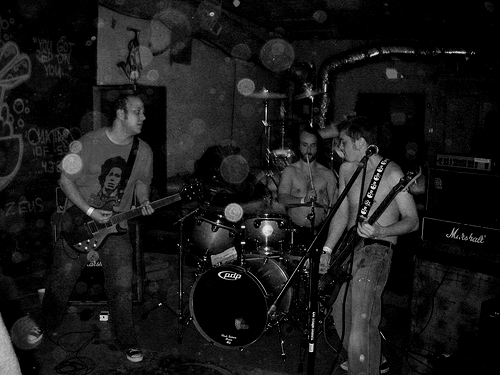 Sick Sick Sick is a punk band started in 2003 by Furman Fowler and Philip Baldy formerly of the Aiken punk band Thumbknuckle, and Preston Cox formerly of Augusta metal band Helen Keller's Pussy. They played their first Augusta show December 2003 at the Hangnail Gallery with the Cubists, Duck Duck Grey Duck and the Arrogant Sons of Bitches. The band has played over a hundred shows across the Southeast and a short tour to Texas in November 2005 with the Skuds. Matt Motherfucker joined as 2nd guitarist in 2005, but left the band in 2007 for personal reasons. Nick Green from Augusta band Beara replaced Preston in 2009.
Furman Fowler - guitar/vocals
Preston Cox - bass/vocals (2003-2009)
Philip Baldy - drums
Matt Motherfucker - guitar (July 2005 - July 2007)
Nick Green - bass (2009-present)
Discography:
Edit
2004 - Sick Sick Sick demo - Chicken Hell
2005 - Fucking Up In Public live CD - Chicken Hell
2005 - Smash The States: Redefining Punk Rock from the South compilation CD - Suicide Watch
2005 - Nightmare on Ellis Street compilation CD - Sector 7G
2006 - The Devil Is Real EP - Chicken Hell
2006 - Meltdown 2006 compilation CD - Lokal Loudness
2007 - Free Shit! CD - Chicken Hell
2008 - Bigger than Jesus split 7" with the Dead Kings - Scatboy
2008 - A Wrench in the System compilation CD - Monkeywrench Records
2008 - Charles Street CD - Chicken Hell
2008 - Some Old Live Shit live CD - Chicken Hell
Sick Sick Sick @ Blogspot - sick3.blogspot.com
Sick Sick Sick @ MySpace - www.myspace.com/sick3
Community content is available under
CC-BY-SA
unless otherwise noted.