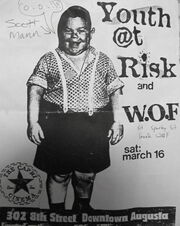 The Capri Cinema
Edit
The Capri Cinema was originally a pornographic film (adult entertainment only) theater located on the corner of 8th St and Ellis Street in Downtown Augusta, Georgia.
In 1995, Didier Rubio (brother of Coco Rubio and Jayson Rubio), converted the theater into a live music venue. A large number of local bands, along with a few major label bands, made the Capri a popular All-Ages Venue which would become a centerpiece for Augustas Underground Music Scene for many years to come, while changing hands several times along the way.
For a few short years in the late 90's Harry Grimes and Robert Snelling (co-owners of Infernal Racket) soon took over the reigns during the Orwell Cafe days. Which eventually came to an end due to lack of funding and support.
In 2001, Members of Local Hardcore/metal band (In Full Effect) Jay & Jacob Sills, Bob Dunaway, & Chris Tomlinson reopened the Capri as a punk/hardcore venue, after making improvements to the building to include a new stage, which over the final 4 years featured hundreds of both local & National acts such as Mastadon, The Reverend Horton Heat, Full Blown Chaos, Sworn Enemy, Hatebreed, Shai Hulud, as well as E-Town Concrete amongst many others. Eventually, the doors would finally close once and for all, having paved the way for similar venues of it's kind.
Now, the Capri has been completely renovated, and transformed into Le Chat Noir, but it no longer exclusively shows adult entertainment films.
Local Bands
Edit
Third Rail
dieAgnostic
Overdose
In Full Effect
Final Darkness
Foul Mouth Mitchy
Torment
The Decrepits
Stretch Armstrong
Dew Hickies
Signal 30
W.O.F
Youth At Risk
Dinah
Skadaddles
Januaries
Whitman's Mold
The 556's
Empire Day
Mary Jane Jones
A Mercy Union
National Bands
Edit
The Reverend Horton Heat
AFI
Full Blown Chaos
Sworn Enemy
The Frantics
The Rehabs
Mustard Plug
E-Town Concrete
Terror
MU330
mephi-SKA-pheles
Less Than Jake
The Business
Dog Fashion Disco
Hatebreed
The Independents
Wax
Letters To Cleo
Future Seems Forever
One Line Drawing
Pond
Pansy Division
Hell Mach 4
Pineal Ventana
Gals Panic
C.3.P.O. (Chris' Three Piece Orchestra)
Archers of Loaf
Mastadon
Warzone
& Many More
Community content is available under
CC-BY-SA
unless otherwise noted.